News and Upcoming Events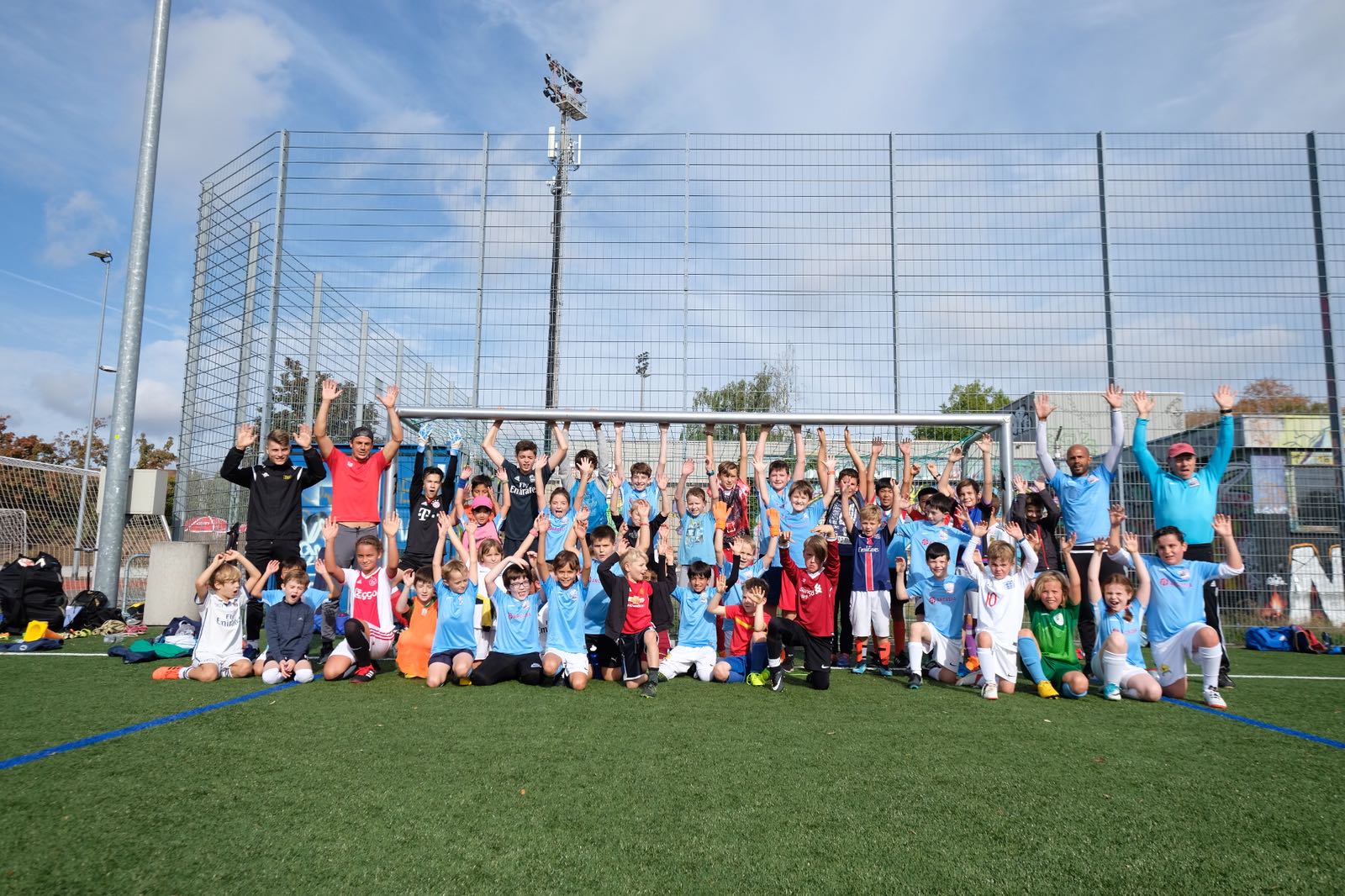 FALL Saturday Soccer Course 2021
WHEN: Every Saturday morning from 900-1030 starting Saturday, August 21st and ending December 11th. No training sessions on October 9th and 16th
WHERE: Schützenmatte Soccer fields, across the street from Neubadstrasse 5, Basel.
WHO: Boys & Girls aged 5-15 years old. All ability levels are welcome so bring your friends! :-)
COST: 420CHF *if you register and pay before August 1st. After August 1st, cost is 450CHF
10% off 1st Sibling and 20% off 2nd sibling!
WHAT TO BRING: Soccer appropriate shoes, i.e. cleats or turf shoes, shinguards, water bottle, weather appropriate sports attire.
TRY THE FIRST TIME WITH NO OBLIGATION TO JOIN!!!
Join at anytime during the course and pay a prorated cost!
For more info or to register, please email us now at bartlomesocceracademy@gmail.com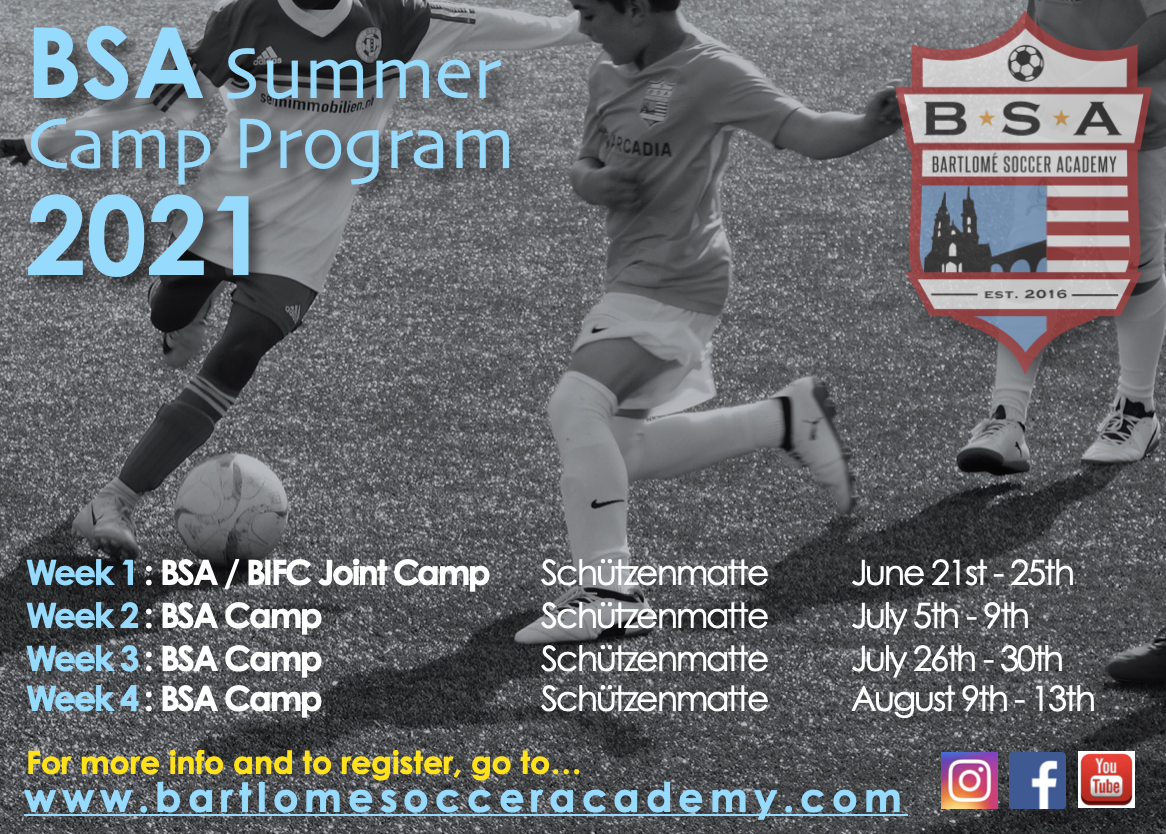 Summer Camps 2021!!!
We are offering 4 different weeks of Summer Camps this year! So, don't wait and make sure you register today! :-)
Please click on the Flyer to your left for all Summer Camp info and to register!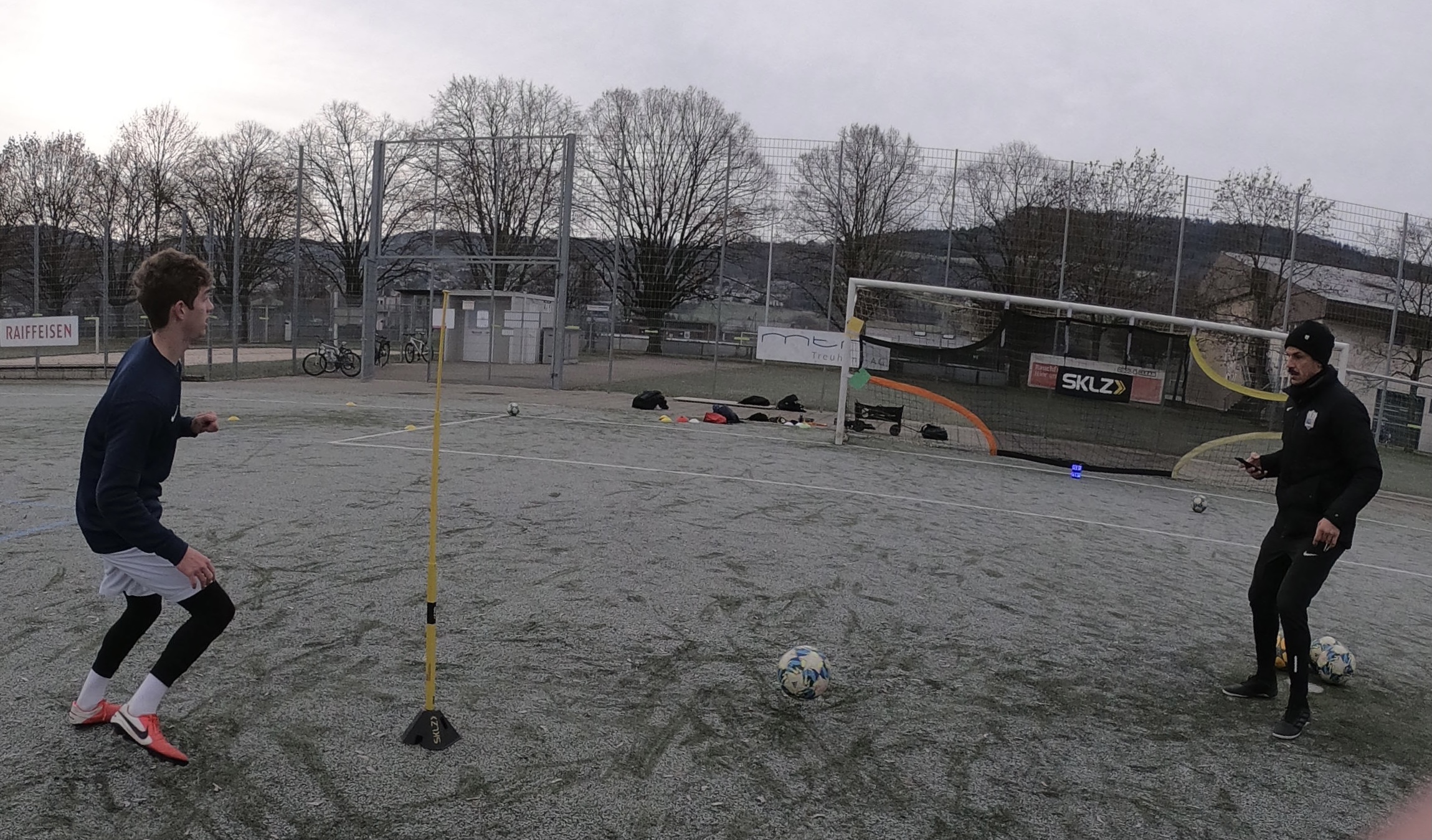 !!!NEW!!! - BSA ELITE Training SUMMER Program
Hello All
Our ELITE Training Program will continue over the SUMMER with new programs including an offseason specific ATHLETE Performance Program designed specifically for footballers looking to make the most of the Summer break… get off the couch, put down the video game controllers and put in work this Summer to improve your strength, power, speed, agility, endurance, flexibility, recovery and more!!!
Whether you sign up for a Small Group, GIRLS Only Small Group, or PRIVATE 1 on 1 Soccer, GoalKeeper or ATHLETE Performance session, our certified and highly experienced coaches will take you through professionally designed training sessions fine tuned specifically for each player's individual strengths, weaknesses and needs to become a better footballer and athlete.
Here are the details on how it works…
DATES:
June 28 - July 2
July 12 - 16
July 19 - 23
July 26 - 30
August 2 - 6
OFFERINGS/DAYS/TIMES:
SOCCER: Small Group, Private Sessions and Girls Only Mondays, Wednesdays and Thursdays – 900-1030 and 1030-1200
ATHLETE Performance and GOALKEEPERS: Small Group Sessions (no private sessions offered for these programs) Tuesdays and Fridays – 900-1030 and 1030-1200
WHO: All motivated players looking to train in a professional environment, develop themselves as footballers/Athletes and get better!
WHERE: All Sessions at Schützenmatte, across the street from Neubadstrasse 5, Basel
COST:
1x for 40CHF
5x for 185CHF
10x for 350CHF (Best Value)
1x for 120CHF
5x for 575CHF
10x for 1125CHF (Best Value)
TRAINING OPTIONS:
Private 1 on 1: Just the coach and the player
Small group session: 3 player minimum for the session to go ahead, 6 player maximum per coach. Train with your teammates or friends!
GOALKEEPERS: 3 player minimum for the sessions to go ahead and 6 player maximum per coach. Goalkeeper specific sessions
HERE ARE THE STEPS TO GET STARTED!!!
Click the picture to your left to go to our Online booking program
Use the Online Booking Calendar to find the session that suits you best.
Click on "Join this Class" to bring up all available product options for payment.
Choose your desired product option to pay for the session.
Make a profile for the player who would be taking part in the training session(s).
Fill out payment information, confirm payment and then you are good to go! :-)
If you have any issues, please do not hesitate to let us know by emailing us at bartlomesocceracademy@gmail.com###
Thanks and please let me know if you have any questions or concerns whatsoever!
COVID SAFETY MEASURES
Please click on the document to the left for all COVID Related Safety measures at BSA.
BSA/eStudios Soccer+FIFA Gaming Summer Camp
Do you like Soccer??? Do you like playing FIFA with your friends??? This Summer, BSA and eStudios AG are combining the two in a Camp where players will be coached in Soccer and eSports gaming by top professional Coaches! Click on the flyer for all details and to register B-)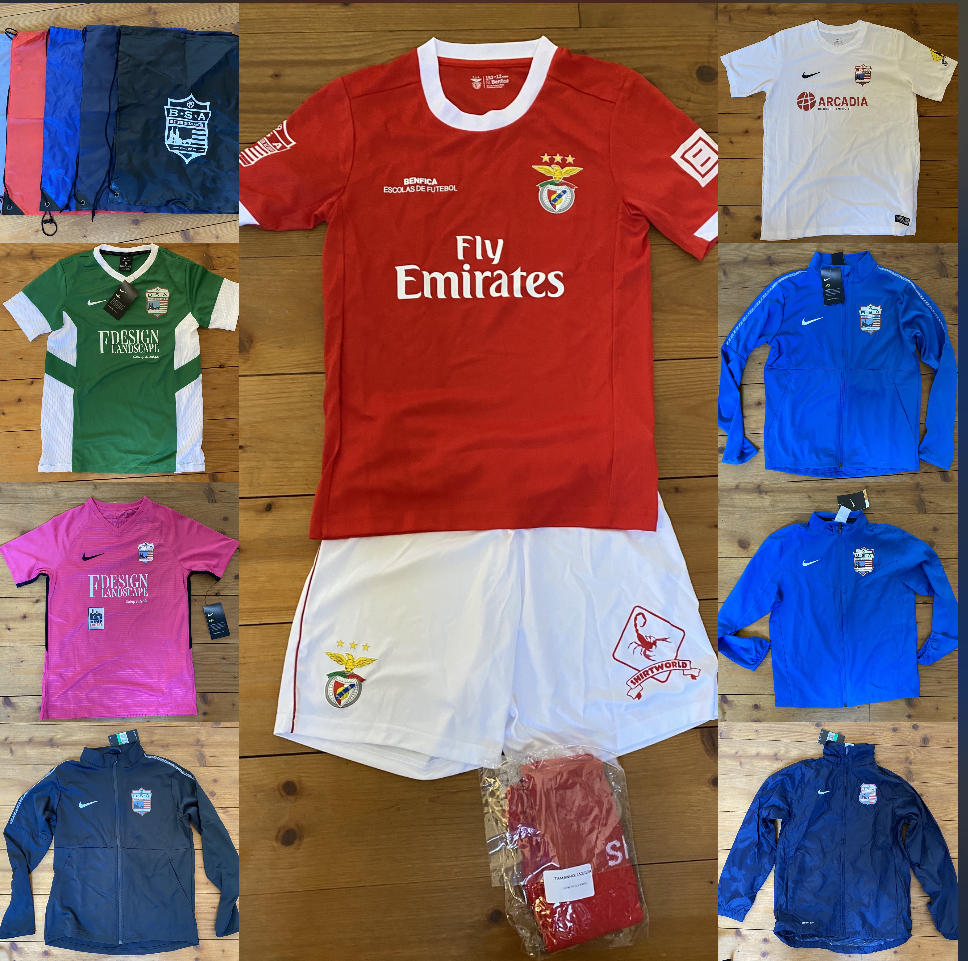 BSA Merchandise FOR SALE! Perfect CHRISTMAS Gifts!!! :-)
BSA T-shirts, Jackets and full kit available for purchase for discounted prices! 👕👕👕⚽️❤⚽️❤⚽️❤
Also, with every order you make, you receive one FREE BSA soccer shoe bag!!! Only while supplies last!
VERY limited sizes, colors and availability… so don't wait!
Nike BSA Jackets = 40chf each, normally 50chf
Nike BSA Camp Jersey Tops = 25chf each, normally 30chf
BENFICA/BSA Full Kit = 40chf, normally 50chf
ALSO, BUY 1 ITEM AND GET THE 2ND ITEM 20%OFF!!! (discount applies to lesser value item)
Email us at bartlomesocceracademy@gmail.com for info and purchases.
Ready to begin your training? We are too!